It's that time again for a lot of us.
That time of year where we have to discontinue our binge-watching and get our lives together for.
BACK TO SCHOOL! I'm entering my final year at my university, but this year is different. I'm trying to be zero-waste this year, which makes shopping for school supplies a bit complicated.
I headed to Walmart with my brother the night before my semester starts, which was the worst idea I could have ever had, but we started to hunt for our supplies.
I then realized, that I have to be as zero-waste as possible. It's really hard to do that when all of the pens, pencils, markers, and other writing utensils come in plastic wrappings. Sure, the backing is cardboard (which we can recycle), but the wrapping covering them is plastic.
One of the blogs that I follow for zero-waste inspiration and shopping is called Package Free Shop. In this store you can find all sorts of package-free items like razors, toothbrushes, shopping bags, and other such things.
For back to school, they added some school supply items that are package free and sustainable. They have recycled paper notebooks, binders, and folders. They also have 100% cotton pencil pouches and book bags. I also recommend if you already have pencil pouches or notebooks that are half filled, just keep using them. If they have a rip, just do some basic sewing and fix it. That is one way that we create waste: by just throwing things way because we don't like the anymore. There are DIY ways to just revamp something that we do not like anymore. Try to find those ways. If you really don't want to keep it anymore, but it is still a good item, then just donate it to Goodwill or other secondhand-stores around you.
If you can't get your supplies from this website and Walmart is just closer, then try to find the least wasteful things.
Pilot has pens that are called B2P (Bottle-2-pen), which launched in 2010. The gel ink and ball point pens are made from 89% and 83% recycled plastic bottles respectively. They are all 100% refillable.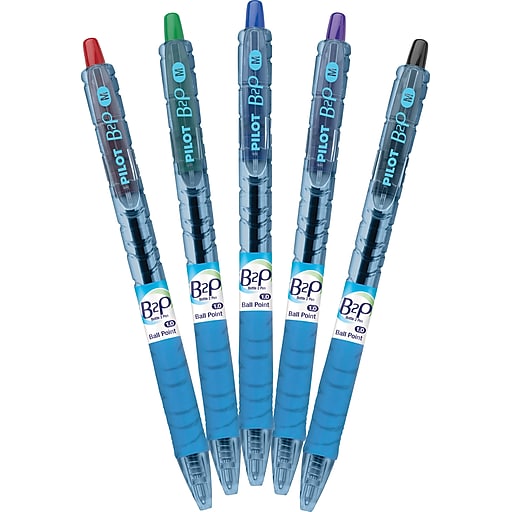 Notebooks are for the most part recyclable, but you can always try to reuse the ones from the last semester or school year. This way you can reduce the amount of waste you are causing. Always try to save things you used from the previous year so that you can use them for the following semester.
If you are in the market for a new notebook, there are these super cool reusable notebooks that I found out about last semester. They are called Rocketbook. It is a reusable, digital notebook. There is an app that the notebook goes with where you just upload the pages to and then erase it when you're done.
Here's how it works:
Write notes.
Choose a destination. You use symbols at the bottom of the pages that connect to your Google Drive, Evernote, Dropbox, OneNote, iCloud, iMessage, or Email. Each symbol represents a course that you are taking or a specific destination.
Scan your pages.
To erase your notes, you just have to wipe them clean with water and a cloth. It's really simple and can be used an endless amount of time.
It's always a little difficult to be zero waste, but you just have to be conscious about the items you are grabbing and buying and how you can reduce your waste. Will it be recyclable? Can I refill it? Can I donate it when I'm done?
Good luck!
Until next time,
Dani